To compose and send a new message, just click 'New Message'.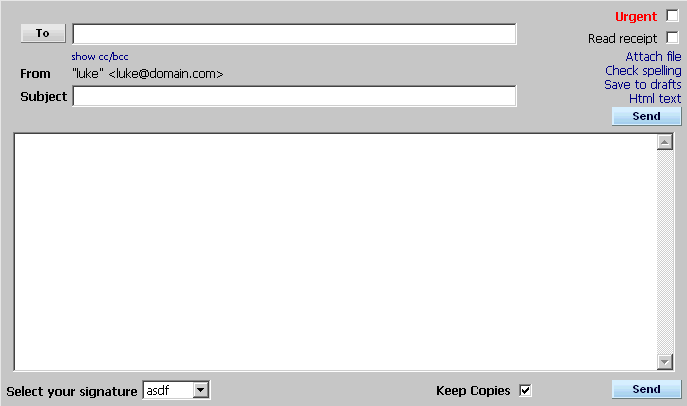 To - Here, type in the recipient's email address, or choose an email address from an Address Book, Recent Addresses or Groups by clicking 'To'.
From - This is the address that the recipient will use when replying to your message. If you have aliases for your account, you can selected them here.
CC (Carbon Copy) - Use this field to send a copy of the message to one or more email addresses.
BCC (Blind Carbon Copy) - This field is very similar to CC, but the e-mail addresses of those in the BCC field will not be seen by other recipients.
Subject - In this field, type in a brief description of the message.
Urgent - Marks the message as urgent.
Read Receipt - Request confimation that the message has been opened.
Attach file - Attach a file to your message - see Attaching files
Check Spelling - Check the spelling of your message.
Save to Drafts - Save the message to your Drafts folder.
HTML Text/Plain text - Lets you switch between using a plain text editor and an HTML text editor to compose your email.
Signatures - If you have set up signatures, select one from here.